"This Earth is our House and Alter"

Rev Yamato
The 25th Annual 2019 GLOBAL PEACE WALK Starts April 8th in Taos New Mexico and ends on Earth Day April 22nd in Santa Fe N.M.
"Our goal is to bring light to the darkness of our society and stand together as one global family supporting each other to successfully manifest our highest potentials," said Global Peace Walk coordinator, Wendy Mason-Sherwood. "Global Peace is a prayer for future generations and it is our last resolve as human beings. If this message of peace spreads throughout the globe, then the earth will become peaceful."
Initiated in 1990 by Japanese Buddhist Monk Reverend Yusen Yamato – a Zen Shiatzu massage practitioner and coordinator of "Summer of Love" and Woodstock 30th Anniversary – the continuing goal of the Global Peace Walk is to protect land and life and to bring back the spirit with which the Charter of the UN was formed in 1945. At that time, 47 percent of American citizen's wanted to end war and voted for the creation of the United Nation's whose purpose was, "to end the scourge of war for succeeding generations," and "live together in peace."
In 1995, Taos became the world's first proclaimed "Global Peace Zone" city following a proclamation by then-Mayor Fred Peralta which took place during the United Nation's 50th anniversary Global Peace Walk between New York and San Francisco.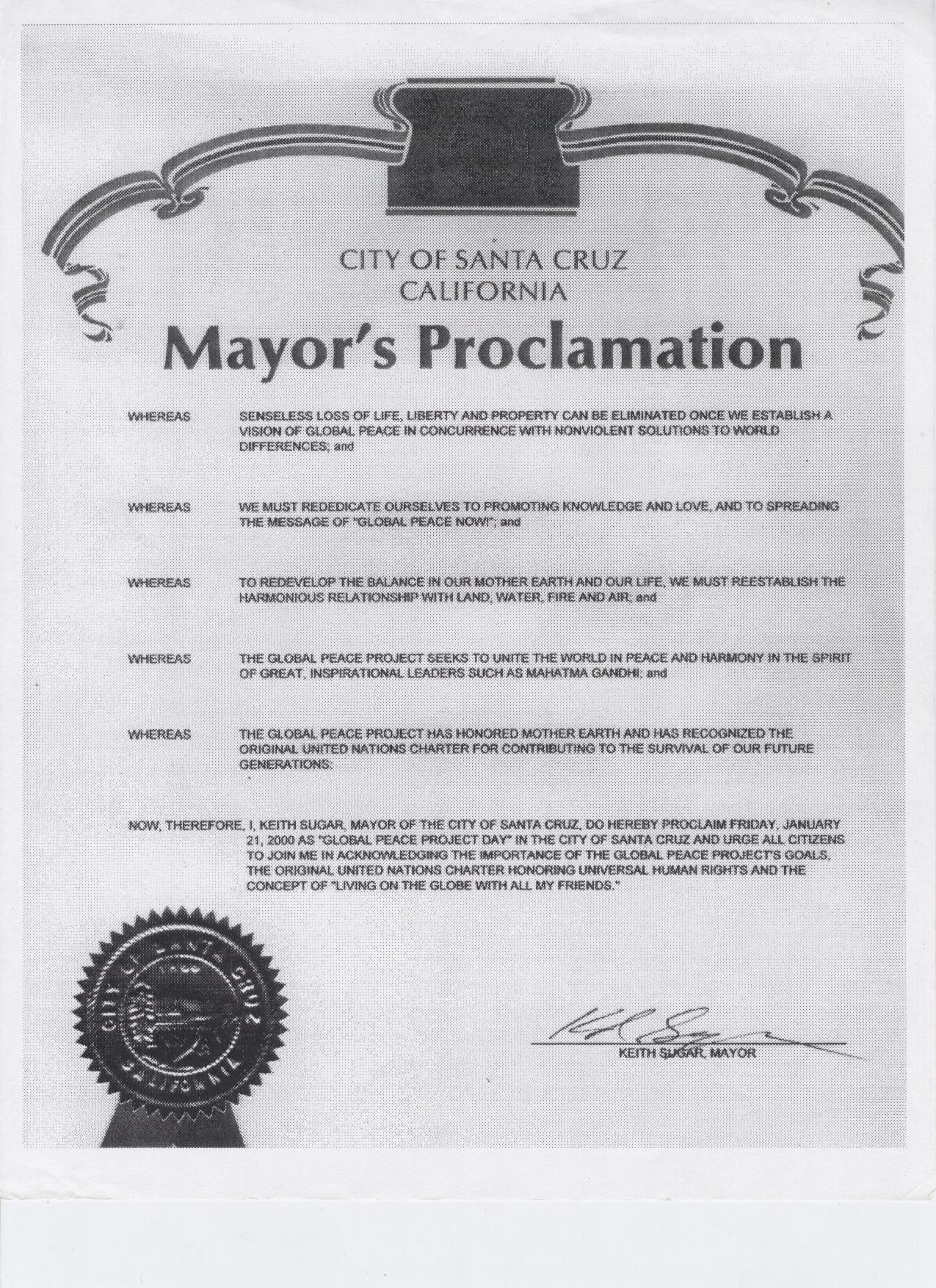 Global Peace Walk has crossed the country in 1995 and in 2000
Proclamations of and Petitions for Peace Zones and Rights of Nature. We will encourage local politicians to sign proclamations of peace as well as support petitions to give rivers and ecosystems protective rights similar to human rights. We will also be supporting local environmental initiatives, all organized locally and represented during the walk through that state and county and the events.